Welcome, and thanks for stopping by! If you're like me your to do lists are always longer than the day. I have been baking my whole life and nothing makes me happier than to bake for others. I would rather stay up half the night than stop and get anything store bought…so I figured out a few short cuts that will give you quick and easy cakes that are sure to impress!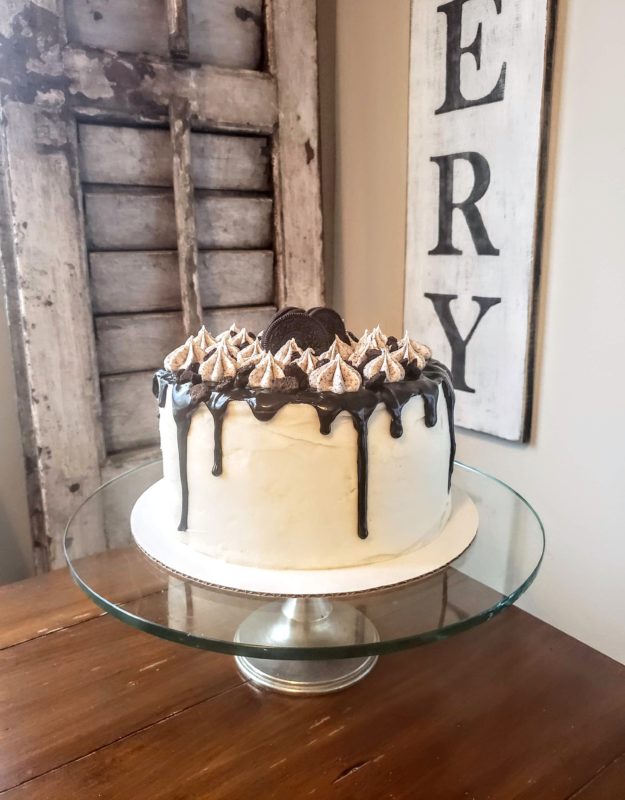 I used 4 devils food box cakes and a triple recipe of buttercream icing. I removed the cream in between the cookies, crushed the oreos and added the crumbs to the buttercream frosting. I frosted in between each layer and the outer cake. I also sprinkled some small broken oreo pieces in between the frosted layers. Put the cake in the fridge for 30 minutes and drizzle ganache slowly over the top
TIP: Ganache is just dark chocolate and heavy whipping cream, super easy.
You can skip the ganache if you would like and just pipe icing puffs on the top. Then sprinkle more oreo crumbs and put a few oreos in the center.
TIP: the crumbs in the frosting you are piping must be super fine or they won't go through your piping tip!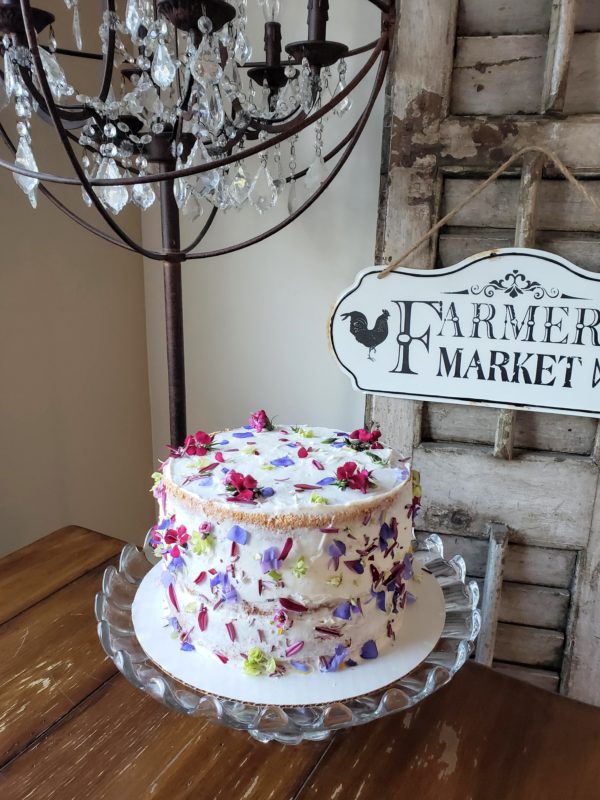 This edible flower cake is one of my favs! Just make 4 – layers with any white box cake, I used 8″. Make a double batch of buttercream icing and frost in between each layer and then frost the outside like a naked cake, which means leave part of the cake showing, and sprinkle with edible flowers.
TIP: I ice a lot of my cakes naked style because I love the rustic look and because its super fast and foolproof!
I like to sprinkle a few in between layers so they show when you cut it! MAKE SURE THEY ARE LABELED EDIBLE FLOWERS!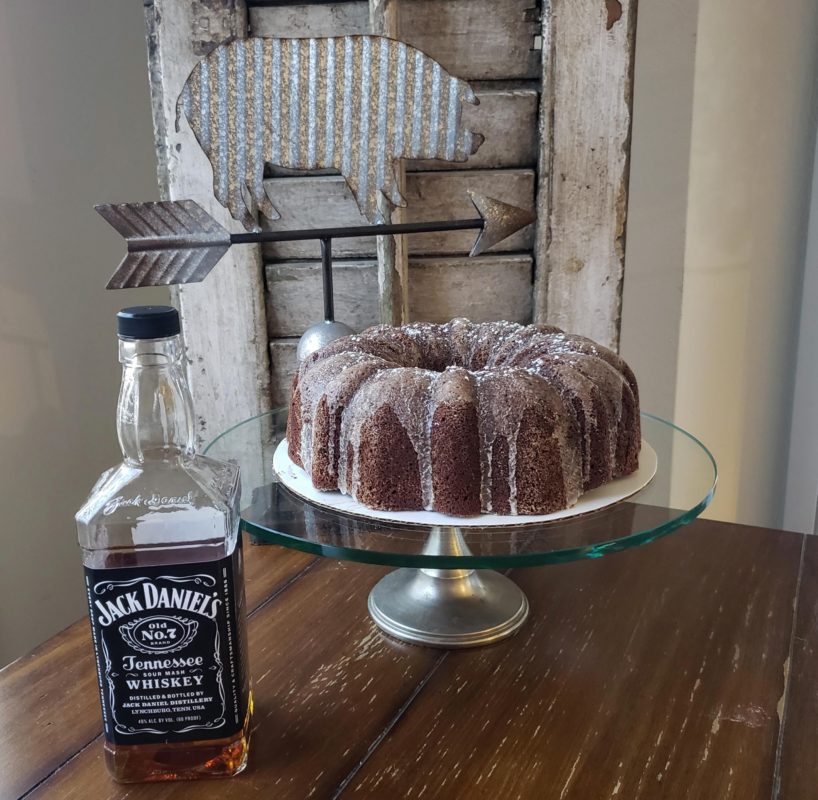 See full recipe here. Use a bundt cake pan, add Jack Daniels and a box of instant chocolate pudding. Drizzle powdered sugar and Jack over the top while warm and sprinkle more powdered sugar when cool.
TIP: This cake has a strong Jack Daniels flavor!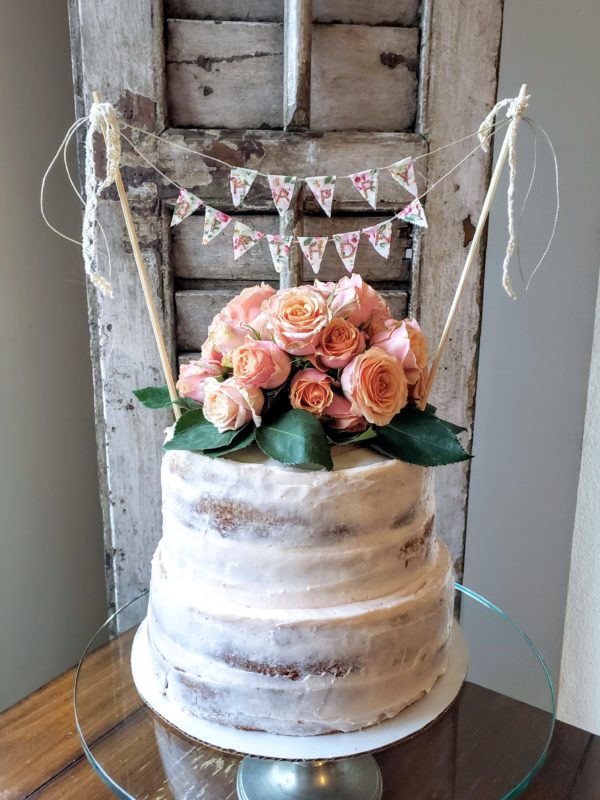 This is prob my favorite because of the cuteness factor. White box cake with buttercream icing. I used 6″ pans and 8″ pans and stacked them. Frost in naked cake style, add roses on top.
TIP: I cut a circle out of parchment paper and put it on top of the cake before adding the roses so they wouldn't touch the cake.
I made the sign out of ribbon, bakery twine, press on letters and ribbon. See article here.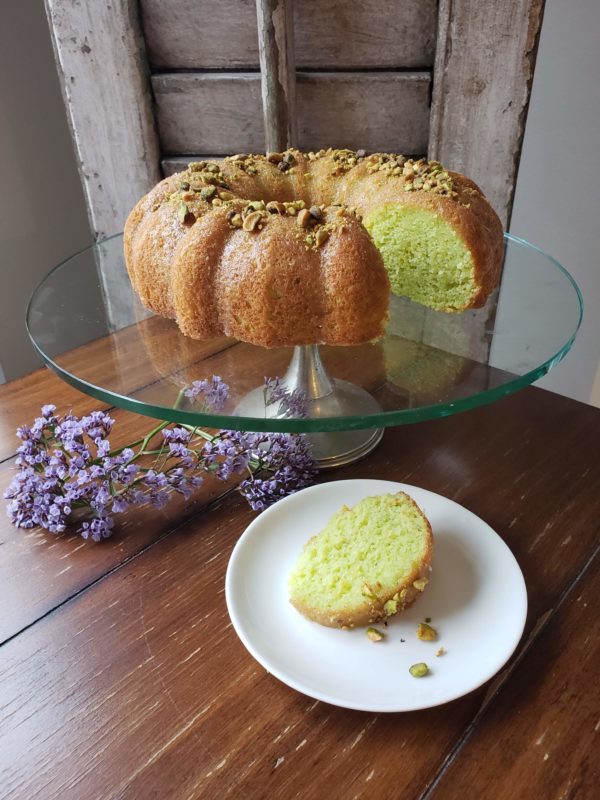 I just love this cake for the taste and the color! Cake mix with instant pistachio pudding added and baked in a bundt pan. Its that easy! This is a variation of my famous lemon cake which is everyone's fav! All I did was use yellow cake mix and change the instant lemon pudding to pistachio pudding. Then I drizzled powder sugar and sprinkled chopped pistachios on top. The perfect spring cake! Get recipe here.
TIP: you could do this cake in other flavors, get creative!
I used the same naked layer cake as I did above. I turned sprigs of rosemary upside down for the trees and layed them around the cake. I made homemade gingerbread for the deer (no thats not quick and easy…lol but you can buy cookies or use ready made dough as an alternative)
TIP: I wanted to use a smaller deer cookie cutters but due to the issues in 2020 I could only find this reindeer cookie cutter which is a little too big but you get the idea
…you could use any cute animal cutout for this cake! Then I just piped a few little dots on the reindeer.
Tip: if you don't have piping bags and tips just fill a small baggie with some frosting and barely cut the corner and ta da…you just made your own piping bag!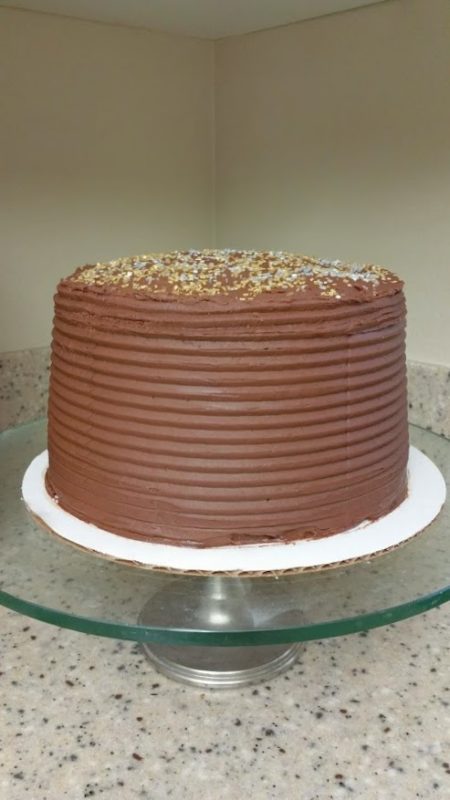 This chocolate cake is devils food box mix with chocolate buttercream frosting. I added gold and silver sprinkles on top or you could sprinkle nuts on top and between layers. I used a texture comb which you can buy online or at any Michaels or hobby store. Thats what makes it look like a bakery cake. All you do is hold the comb on the side of the and spin the cake on a lazy Susan.
TIP: If you make any mistakes you can patch or do over. I added a little frosting to fix that little indent shown in the photo…foolproof!
Have fun baking! Putting that little bit of extra time into something for someone else is priceless, especially when you see the smile on their face. That look that says "you did this for me?"
If you have any questions, need recipes or just want ideas for your next event or occasion just email me!
Carrie
XOXO