Baking to me is arts and crafts that taste good… and I love creating anything, so I love baking! This weekend I made pistachio lemon cake, rose petal bark, and sourdough bread from a starter my friend gave me. My lemon cake is a crowd favorite but I was dying to try a pistachio lemon cake twist, so instead of adding my usual lemon pudding I added a box of pistachio pudding and sprinkled the top with chopped pistachios because I love pistachio anything! It was amazing, and I love, love, love the green color! You have to experiment with baking…if you don't try new things, you'll never discover new favorites! I just love these, so I had to share!!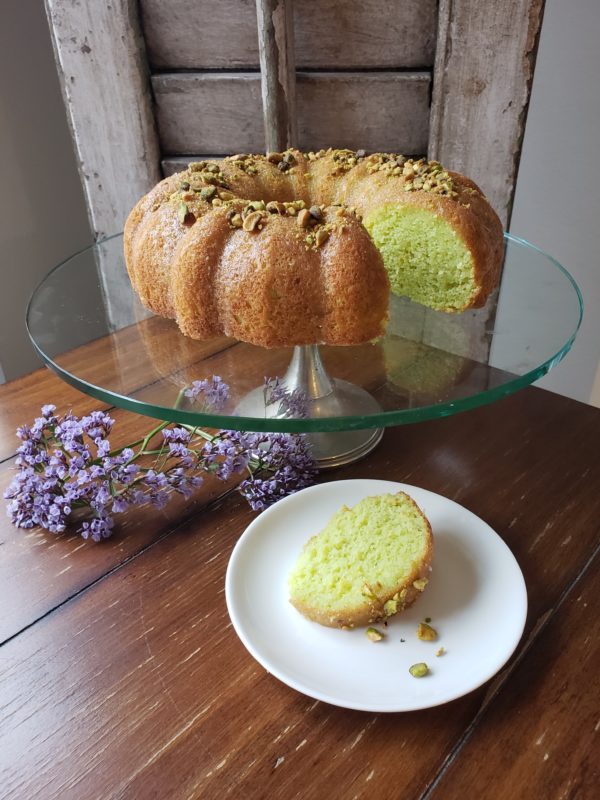 Pistachio Lemon Cake Recipe
1 box lemon cake mix, I like DH (or can use a yellow cake mix)
1 box 3.4oz lemon instant pudding (or pistachio if you want to try it)
½ c Oil
4 eggs
1 c Water
4 teaspoons freshly grated lemon rind
1 1/3 c powdered sugar
5 T fresh squeezed lemon juice
Preheat oven to 350 degrees. Beat eggs, add oil, water, pudding, and cake mix. Add ½ of the lemon rind into the mix. Mix on med speed about 3-4 min. Pour into greased and floured Bundt cake pan and bake for approx. 35 depending on your oven. While your cake is baking combine your lemon juice, the other half of the rind and powdered sugar and set aside. When your cake is done set pan on rack to cool for 5 min. before removing it from the pan. Put the cake on the rack with a sheet underneath to catch drips and drizzle the lemon juice/sugar mixture over the warm cake. (I also poke a few toothpick holes in the cake, so the juice goes inside). Once the cake has cooled you can sift some powdered sugar over the top if you would like. If I make the pistachio version, I sprinkle chopped, roasted pistachios on top.
One of my many fav things to use in baking is edible flowers… they are organic, cute and something you don't see every day! This chocolate bark is a blend of edible roses, dried strawberries, pistachios, and flaky pink sea salt. What dessert wouldn't be good with flaky pink sea salt! I sell the "rose petal bark" and the fixings to make it yourself it if you don't want to run all over town getting everything… just em me for more information!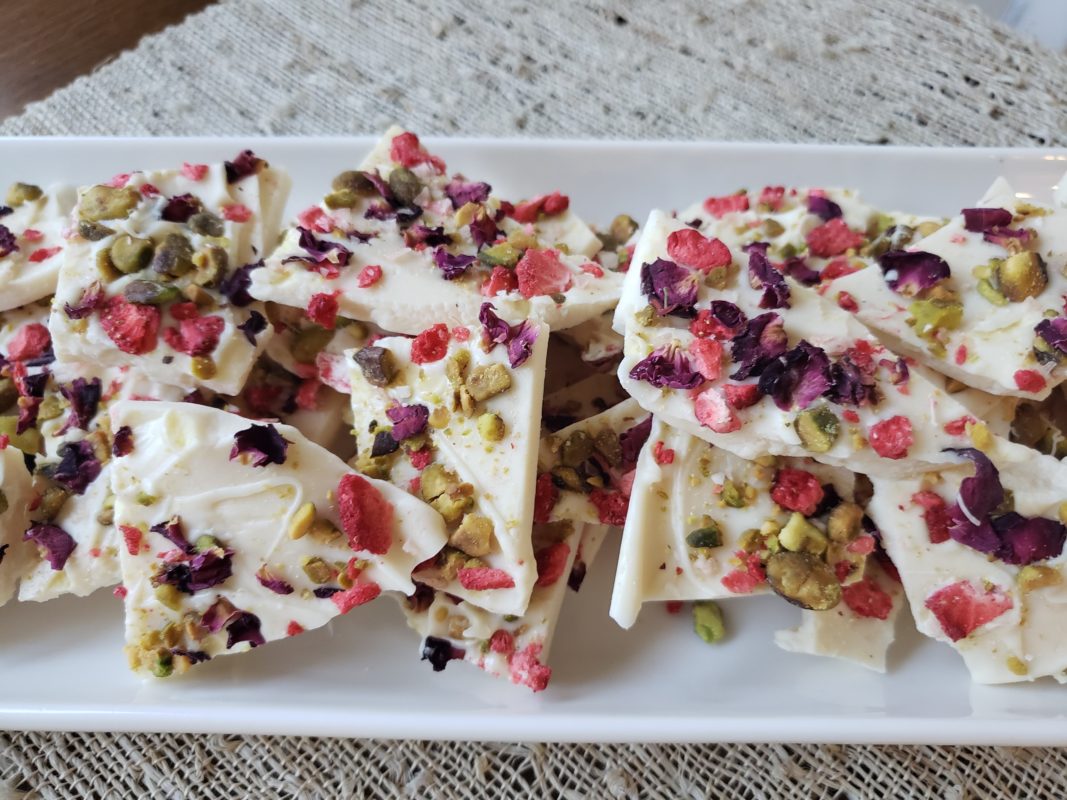 Rose Petal Bark Recipe
2 bags (12 oz bags) white chocolate melting pieces
½ c —Chopped culinary roses or rose petals
½ c— Chopped dry roasted pistachios
¾ c— Chopped freeze-dried strawberries
1 tsp Flaky pink sea salt
Line a cookie sheet, or Pyrex dish with parchment paper. Melt your chocolate in the microwave and pour into the dish. Quickly, spread the chocolate around with an offset spatula or knife. You can make it smooth or rough. Sprinkle your roses, strawberries, pistachios and salt over the top and push them down very lightly, they all won't stick and you will lose some of your toppings when you cut it so make sure you put a lot on. Pop it in your refrigerator for 15 min to set. Take it out and break it up into whatever size pieces you would like. You can also cut it into perfect squares if you would like a more finished look.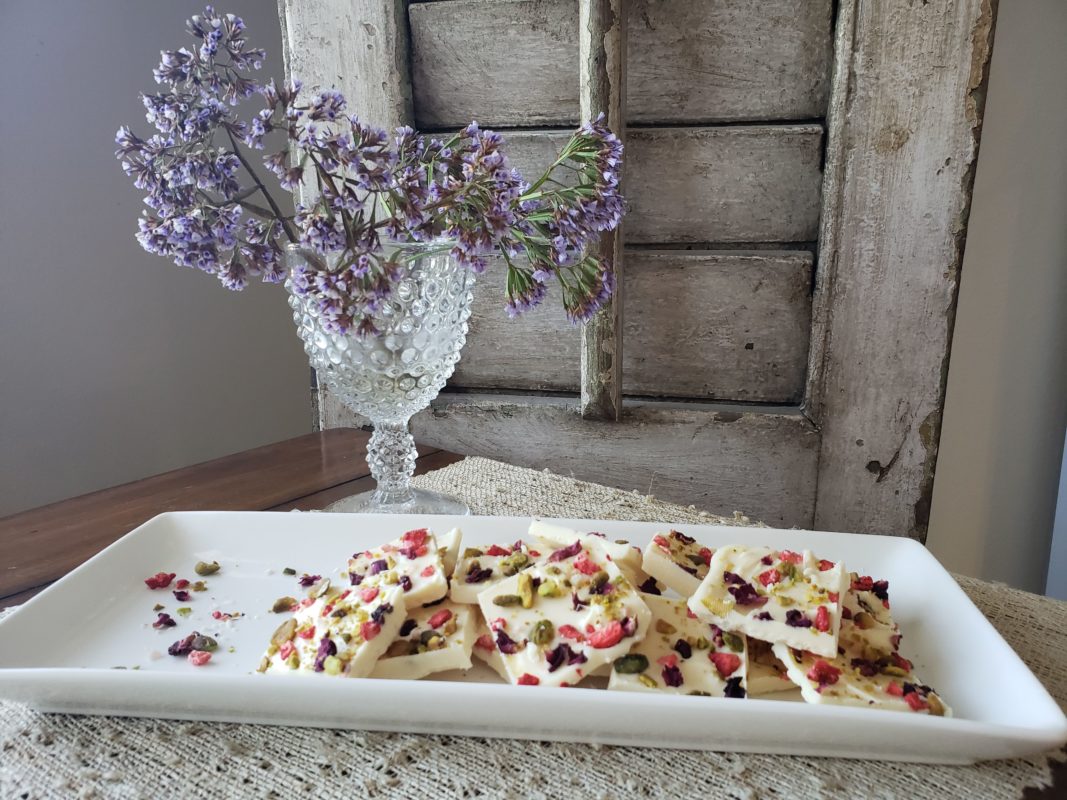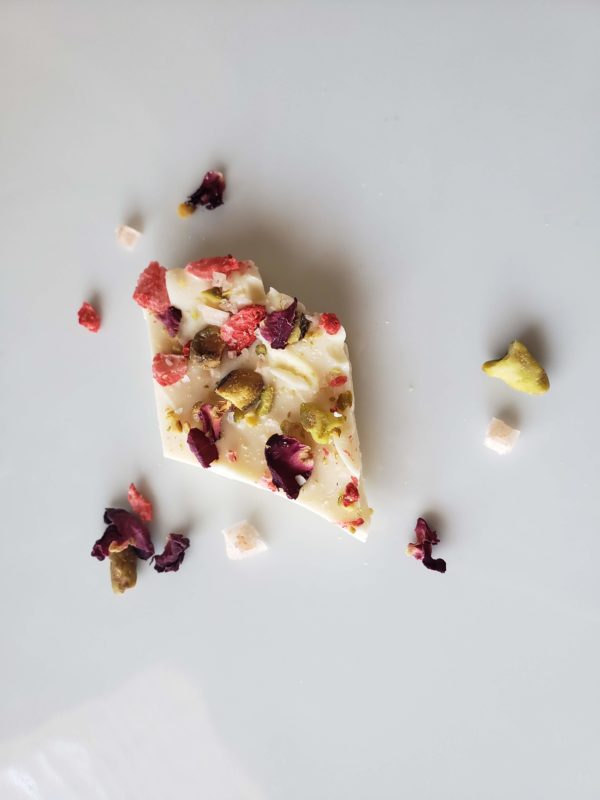 Last but not least my sourdough bread is still a work in progress and still rising so I have no idea how that's going to go. I haven't made bread in years! I keep picturing it rising out of the bowl and taking over the kitchen! So…."to be continued" on the sourdough bread!
I hope you enjoy these, let me know!
Happy Baking!
Carrie
XOXO