Hi friends! I've been so busy trying to wrangle 2020 that I just realized 4th of July was less than 4 weeks away! Rag wreaths are one of my favorite DIY projects especially this time of year for Fourth of July…they just scream summer Fourth of July celebration! Especially red, white and blue decor… you can put them up for Memorial Day and leave them up for the fourth!
This is the easiest project ever!…it just takes a lot of time. So, if you are someone with no patience I do sell them in my Etsy shop, and I'll do any colors you would like. I'll even make a kit for you if you don't want to do the cutting part…for a patriotic, Fourth of July DIY project…I love this! Denim fabric, burlap for texture and a vintage look gingham! I'm obsessed with gingham… here's the super easy way to make a fabric strip wreath! I am a lover of all things distressed and frayed ends so I rip the fabric when possible!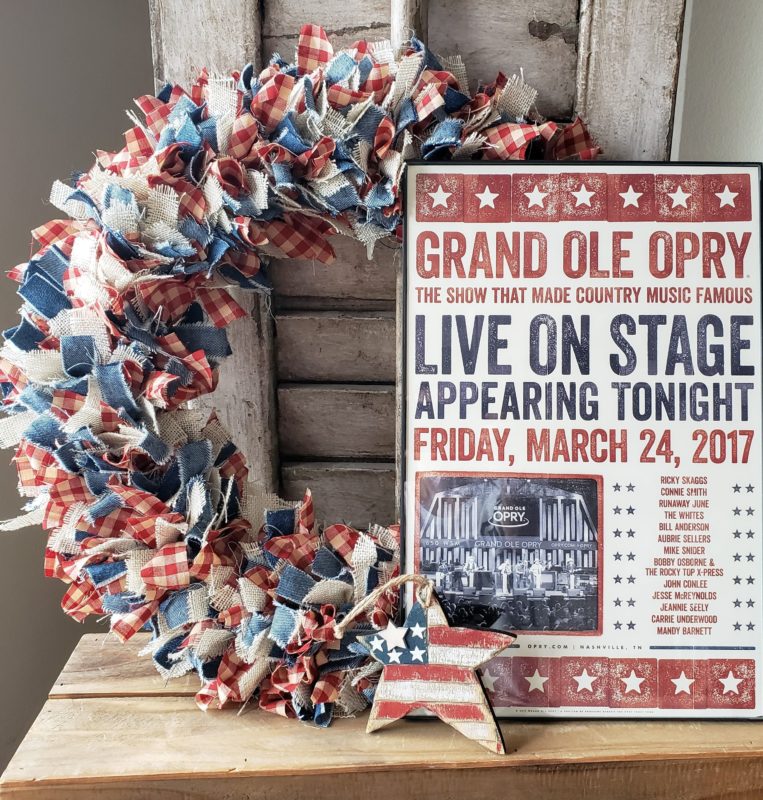 FUN TIP: Instead of buying denim, tear up an old pair of jeans…I love the whimsy of the seams and hems showing!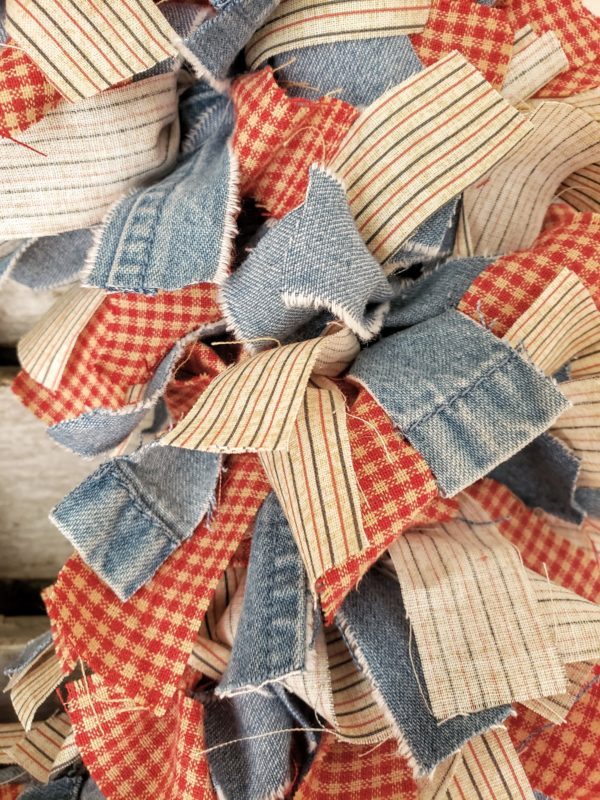 For this big 23 inch wreath I started with an 18" wire wreath frame. Then just cut up your strips.
TIME SAVING TIP: I like to either tear my fabric or use a rotary cutter so it frays a little plus its faster. You can use scissors for a cleaner cut. The burlap will definitely fray…I even pull a few threads to distress it a little more.
I used about 450 strips (about 150 ea. fabric) on this big one give or take…I did 1"x 9" for the denim and the gingham and 1 ¼" x 9" for the gingham. Do the math on how many yards depending on the fabric width. I used approx.. 1 ¼ yd. gingham because its only 45" wide, but the burlap and denim usually comes a lot wider so normally a yard ea. is plenty.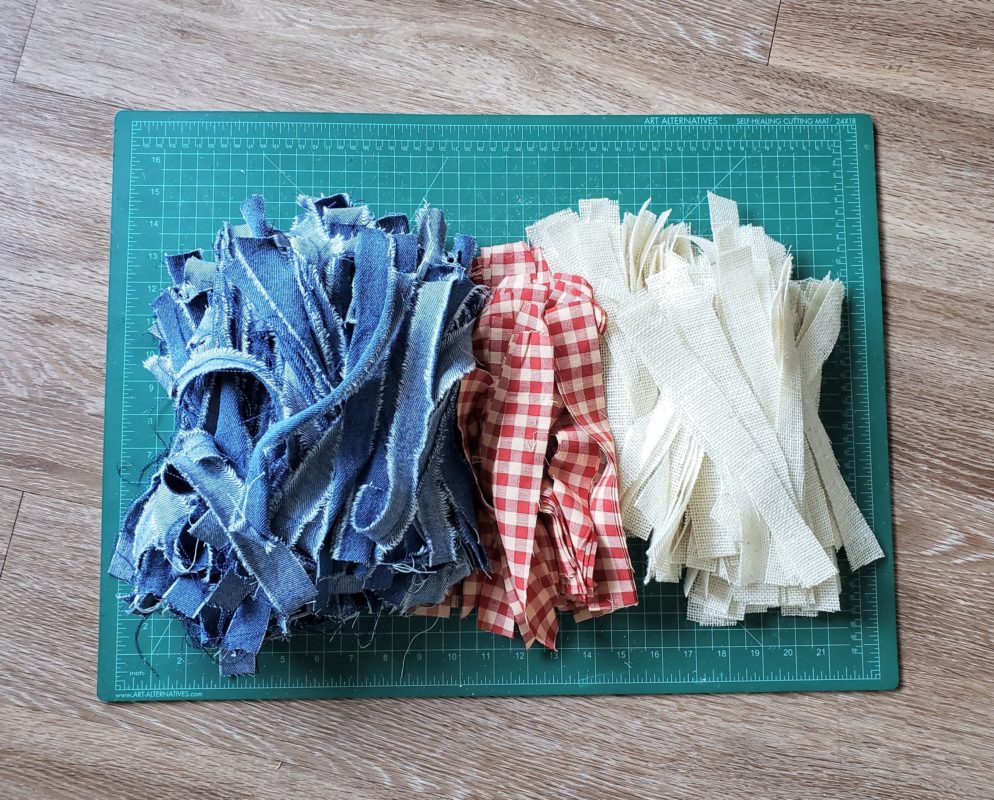 Then just start tying (just a basic cross tie, not a knot). I use 2 wire rows at a time and start on the outer one., Then the middle 2 and then the last 2.
Then just keep repeating until you fill a section, then start the next section and so on…I like mine really full so I push them super tight and keep filling a section until I can't fit even one more strip in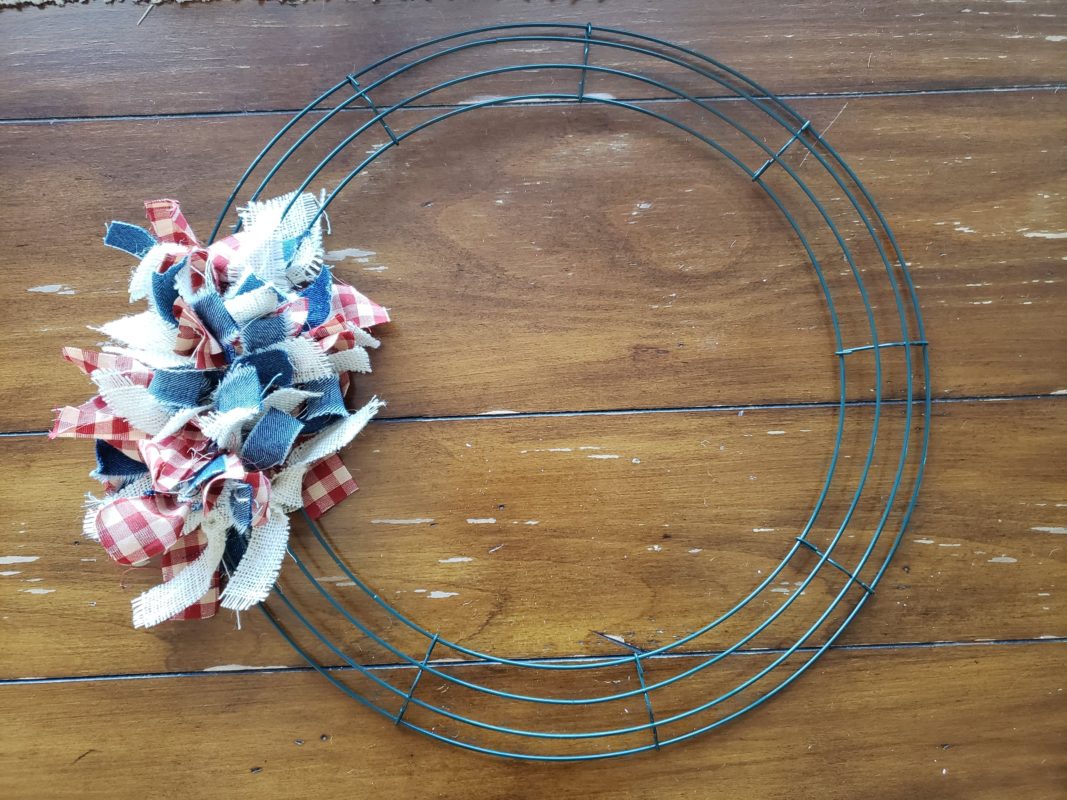 SANITY TIP: Try to alternate the 3 fabrics the best you can it doesn't end the same in each row and its OK if you put the same ones next to each other… just try to space ea. color out evenly so you don't have a clump of one color. Don't overthink it you'll make yourself crazy.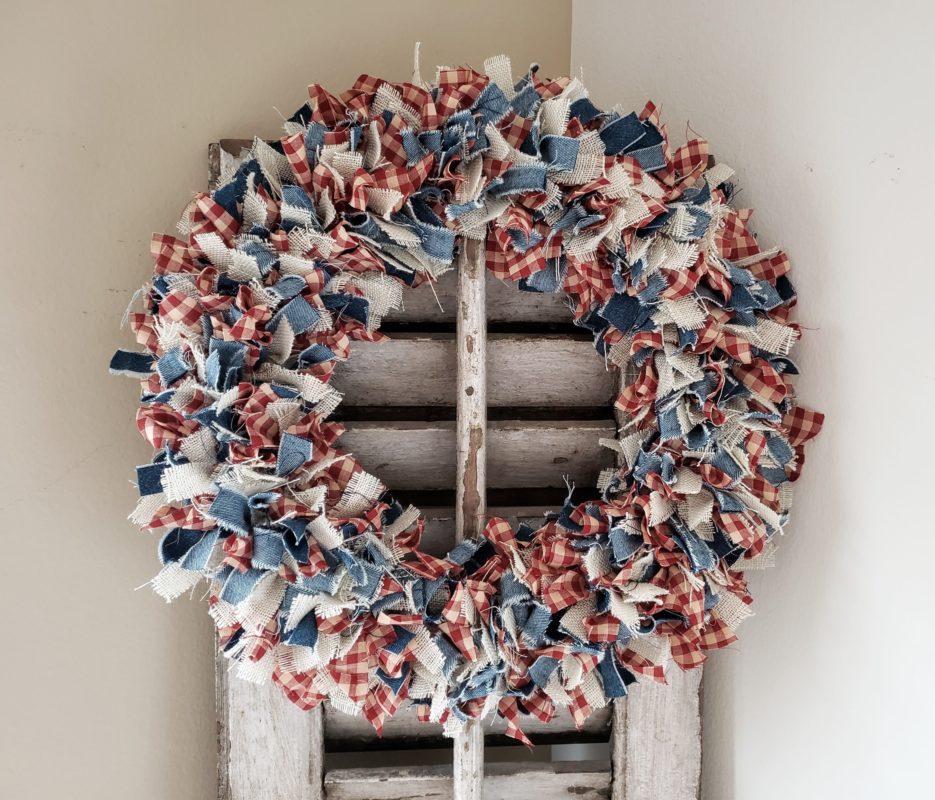 That's it!! The big wreath took me about an hour to cut the strips and about 3 ½ hours for tying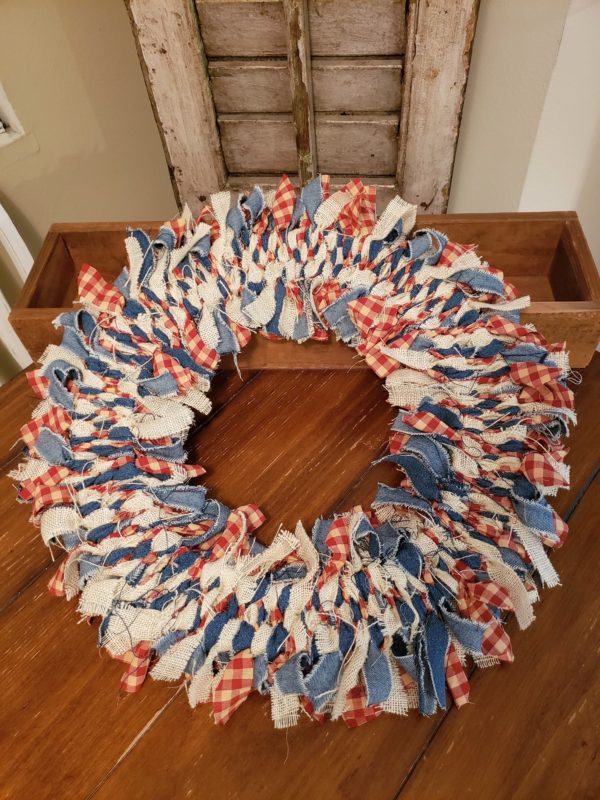 This next one is my 17" wreath that started with a smaller 12" wire frame. I used a vintage stripe, a pair of jeans (my fav) and a extra small vintage gingham.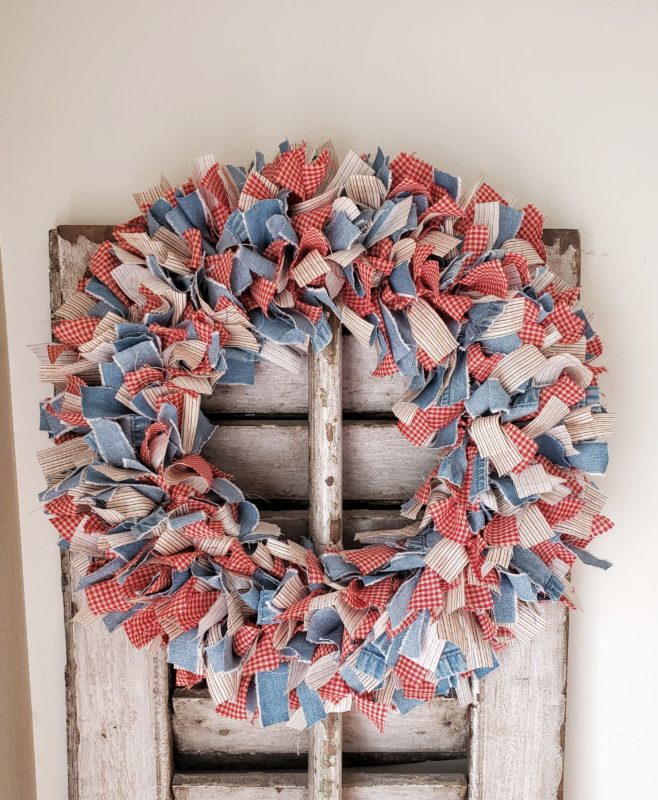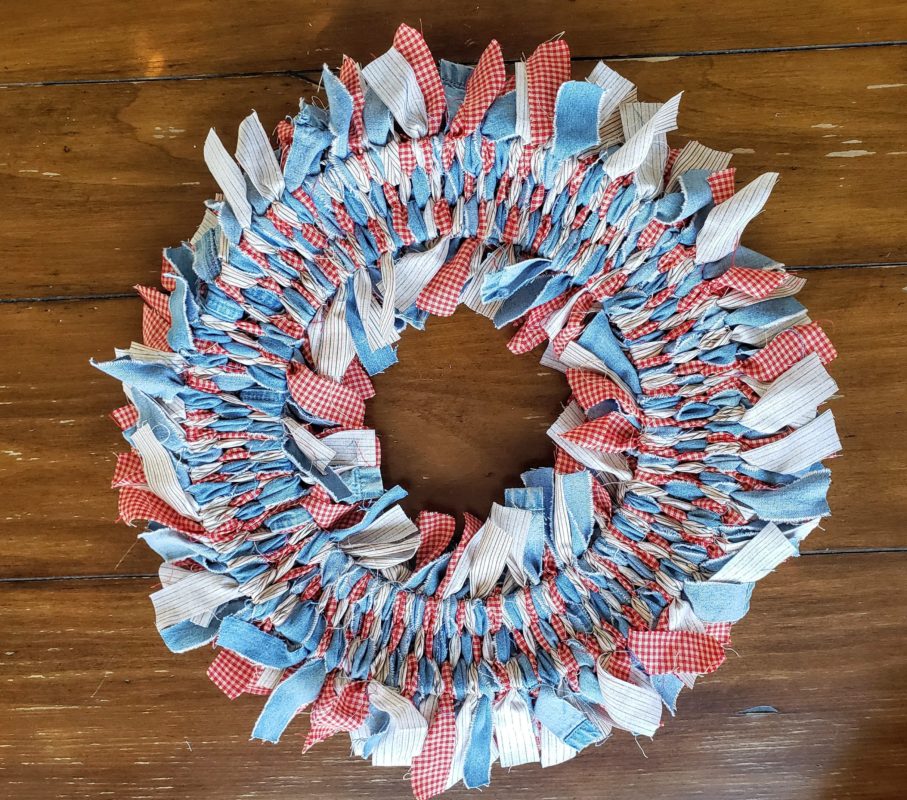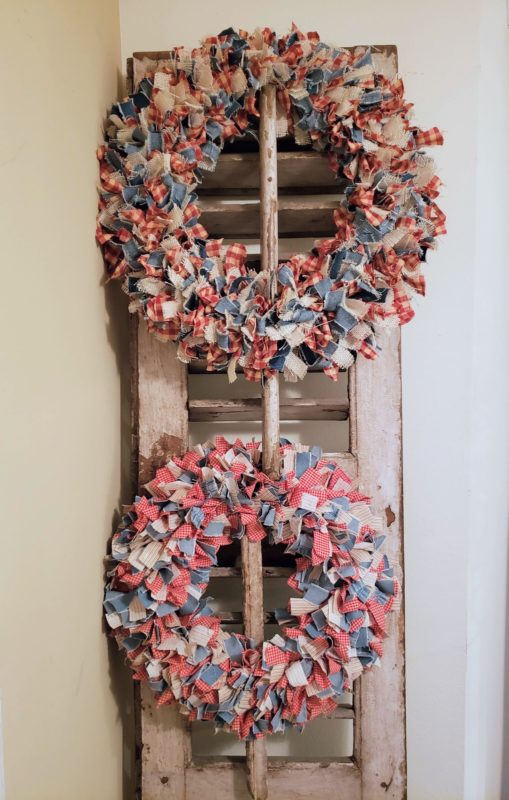 Have fun! I would love to see your designs! Let me know if you have any questions and if you aren't a DIYer feel free to visit my shop, order your favorite colors or email me for a kit!
Happy Tieing!!
Carrie
XOXO