HAPPY NEW YEAR! Yippee! I woke up this morning wondering what just happened between September and December that was hectic and crazy but, in a fun, magical way… What had I been doing the last 4 months? I designed products, planned client's parties, did lots of design work and consults, spent time with friends and family and managed to pull of all my favorite Christmas traditions! But that's my normal routine all year (and why I love what I do)!
Then I figured it out…it was the same inspiring, heartfelt, festive work I do all year but during holiday season everyone else is on board! What is it about the holidays that makes us so much happier and kinder? It's because you are surrounded by all things festive, fun and cheerful. The smells, the music, trees that light up your living room. The movies, the decorations as you drive down the street. Gatherings with friends and family, more parties, more details…and more effort to create the perfect holiday experience!
I like to help others create this feeling all year and I want everyone to be happy with their surroundings. I believe you should love everything around you, and you should celebrate every occasion and holiday you can! I also love weddings because they have the same inspiring, heartfelt feeling as the holidays and the planning also lasts for months at a time. Other occasions and celebrations still have the magic but usually for a shorter time… not that that makes them less important.
This brings me to your home If you don't love everything that surrounds you, we need to talk! This is where you live and breathe, where you spend most of your time. Where you celebrate friends and family, become inspired and recharge to roll through life's challenges!
2020 has inspired me to offer everyone a $99 DESIGN OPPORTUNITY to help you start fresh, make those changes and celebrate life without breaking your budget or long-term contracts!
I want everyone to love their home and to celebrate life's holidays and occasions! So here is my gift to you! I am here to help you do whatever it takes to create your vision so just let me know what you need and lets make it happen! In person, or via face time and email lets get creative together!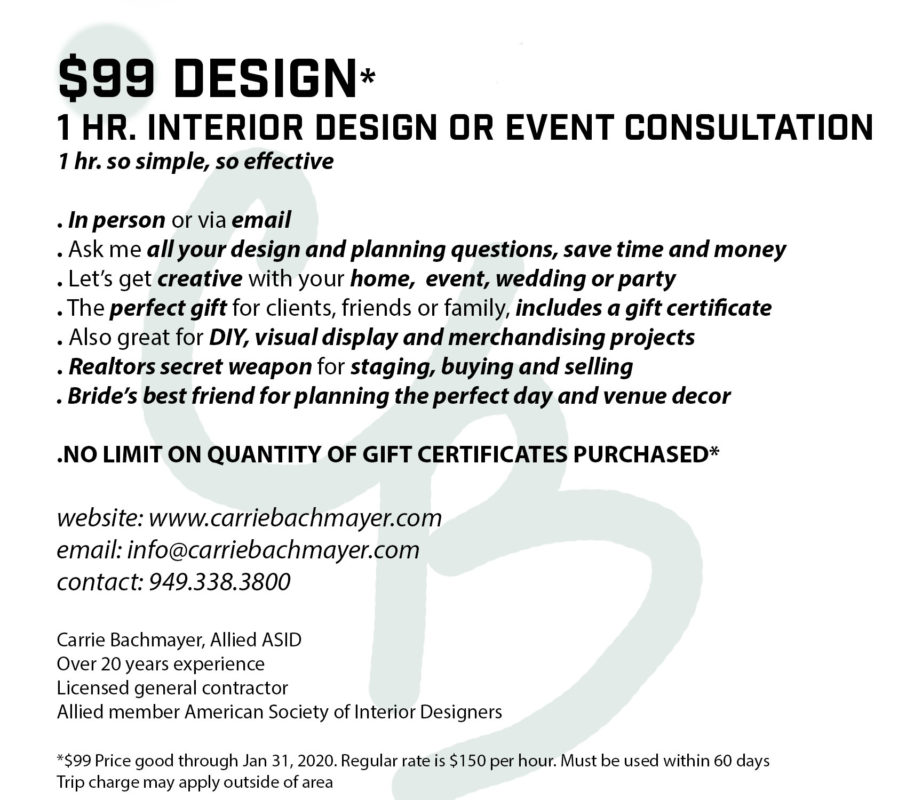 This is also a great gift for your clients, friends, and family and comes with a personalized gift certificate! I can print whatever you would like on the certificate so just let me know!
BRIDES, or if you know an upcoming BRIDE, just the thought of planning a wedding or decorating a venue can be overwhelming. Let's get creative and get a plan together!
REALTORS, this should be a standard go to for you. Is there a better closing gift than to offer your BUYERS an interior design consultation for their new home? And what about your listings? This is perfect for you and your SELLERS to get their home ready to sell! You'll thank me later when I am the one that goes in and tells them what goes, what stays and if they need to STAGE haha. You can even add me to your listing presentations and say you have a designer on your team!
This gift has something for everyone and I am here to help you on your budget, at your pace. If you're a DIYer this is perfect to give you a PLAN TO CREATE AT YOUR OWN PACE! This can also be used for photo shoots, styling, and one of my favorites….VISUAL DISPLAY AND MERCHANDISING! So, what are you waiting for, let's get started! Yes, I do destination design out of state for your vacation homes, investment properties, and destination weddings. Trip charge will apply.
Visit my interior design website at:
Website: www.carriebachmayer.com
Email: [email protected]
Contact: 949.338.3800
Thanks for visiting and HAPPY NEW YEAR! I hope to hear from you soon!
XOXO
Carrie