I'm back from doing a destination wedding in Tennessee! Y'all know Tennessee is one of my favorite places…. all that Southern hospitality! This time I ventured further south of Nashville towards Chattanooga and spent 6 sun and fun filled days in Sale Creek at an amazing lake house! Sunrise, sunburn, sunset, repeat!
Believe me I wasn't in any rush to get back to reality, especially since I was missing the CMA Fest by a week…but I also couldn't wait to get back and tell you about the venue we worked with for the wedding! It's called The Barn at Drewia Hill in Sale Creek, Tennessee. It was the cutest, most amazing, authentic barn venue I have ever worked with!
We drove up the dirt road and I was still taking it all in when I spotted the barn and it was immediate barn envy! Little did I know what would be inside…. when those barn doors opened there it was…that high vaulted, exposed wood beam ceiling that I know you all love as much as I do! As you know the ceiling alone creates barn charm, but when you add soft draped fabric, and romantic twinkle lights… it takes it to a whole different level, and its magical!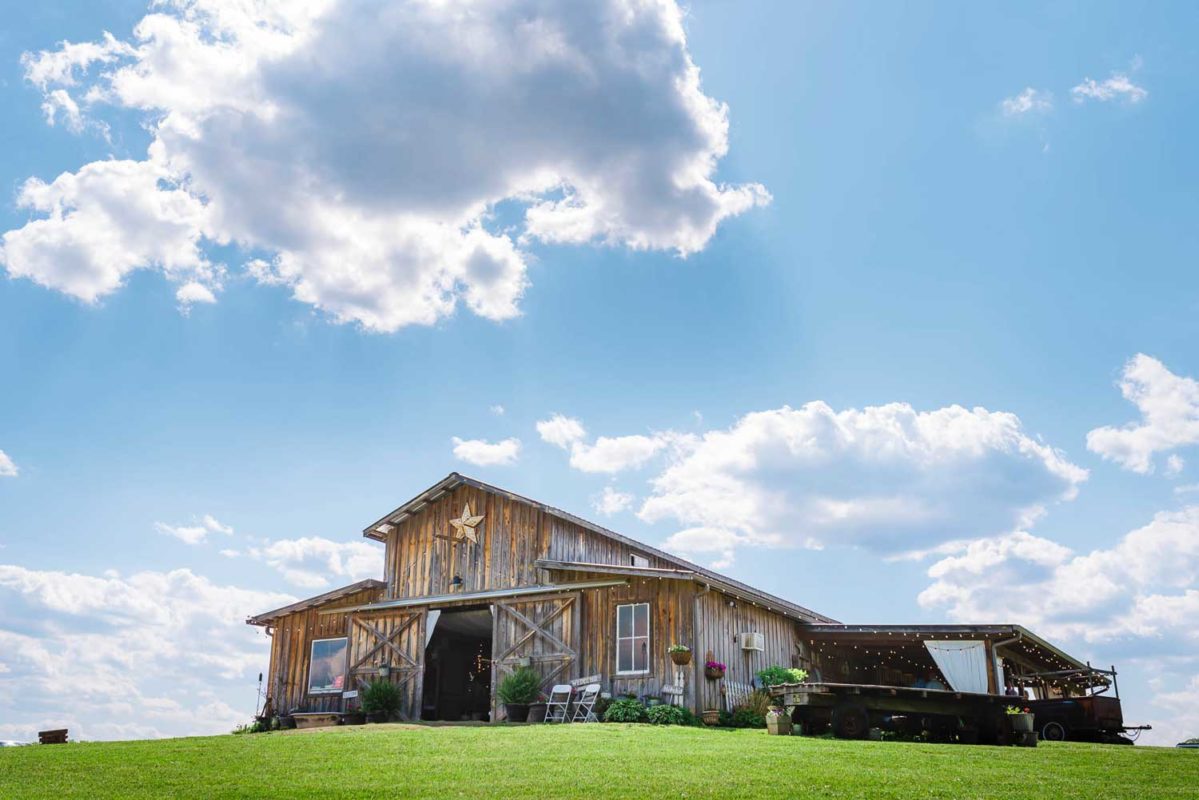 There were vignettes and accessories set up all around the inside and outside, showcasing unique, vintage, rustic pieces! I saw old windowpanes, vintage luggage, antiques, metal signs, wood signs, candles, an old typewriter, and antique pieces of furniture! Old doors with vintage hardware, glassware, lanterns, wood and metal walls and ceilings, mirrors and frames, chandeliers, wine and whiskey barrels, and lots of twinkle lights! The bars inside and out are vintage trucks, there's a trailer outside and even an old bathtub! There were hundreds of rustic accessories and so many things I don't have room to mention…. literally enough to fill a barn…ha-ha pun intended.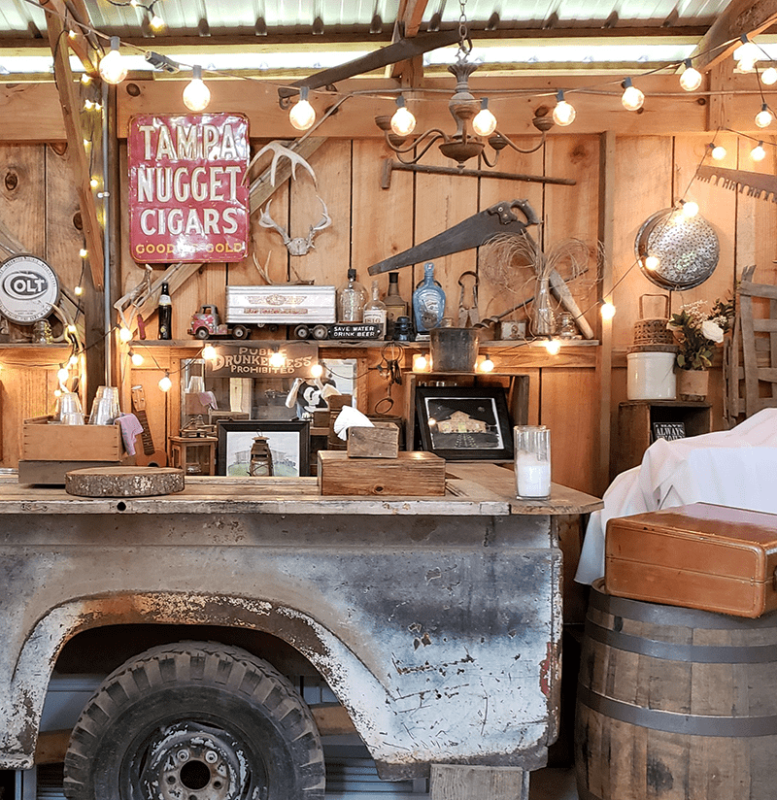 The brides vision fit right in! She had collected vintage colored glass vases and bowls for each table, the dessert bar and the cake tables. The vintage glassware was filled with colorful, assorted wildflowers and placed on large aged doilies. The wildflowers were drop dead gorgeous! They hung from the archway outside, they made up the most beautiful bridal bouquet I've ever seen and even Mollie strutted with all four paws down the walkway with her wildflower collar.
So here I am taking all this in thinking I was either in heaven or a Hallmark movie….and the big barn doors swung open revealing not only the picturesque green countryside, but an old vintage truck parked outside in the distance… It just doesn't get any more authentic than that… the truck belonged to the venue and has even been in the family for generations!
Talk about Southern hospitality, Kris the owner/manager is one of the nicest, most accommodating people you will ever meet! Just one of the reasons I love the South, everyone is so nice! She personally catered the food and it was amazing all the way around. Bundtinies, a candy table and a pressed wildflower cake fit right in! Fun fact; I actually made the cake the morning of the wedding…ha-ha no pressure there!
It was a, successful, beautiful, rustic, Southern wedding from the confetti kiss and the all-night dancing to the after dark sparklers. Even with a few unexpected surprises like the heat wave and the bee that flew up the bride's dress….it was absolutely perfect!
If you need a rustic destination The Barn at Drewia Hill has it all! www.thebarnatdrewiahill.com
And if you need a destination wedding planner, or ideas, don't hesitate to contact me at The Striped Barn….. we have lots of Southern hospitality to share!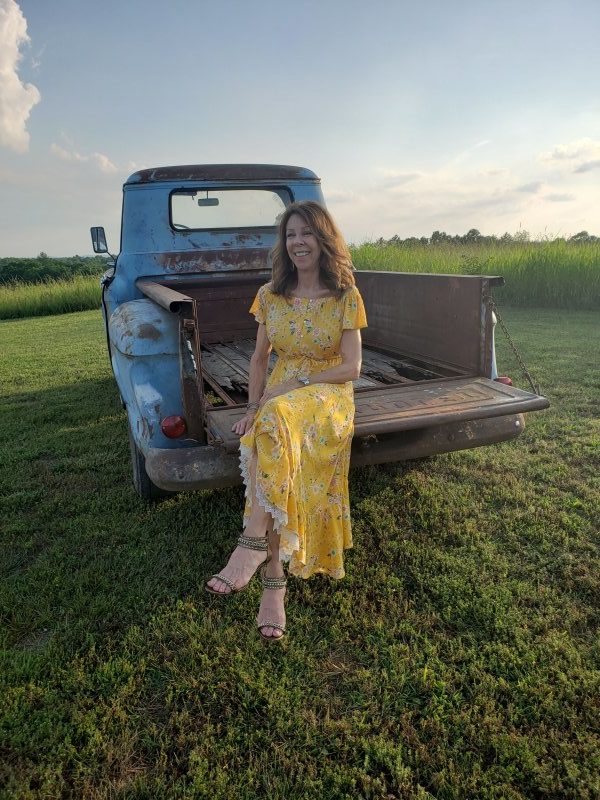 What was your favorite rustic event?
Carrie
XOXO