What's your perfect space? We all have a certain style or certain elements that catch our eye and speaks to us. We've all had that moment when we see that pic that fits our vision of the perfect space. One that checks all the boxes in our designing mind…But many times, it's just one or two things in that pic that click with our vision, so we gather those things and keep looking until we have designed our perfect space.
TIP: Lighten, have fun and choose what speaks to you…don't take it so serious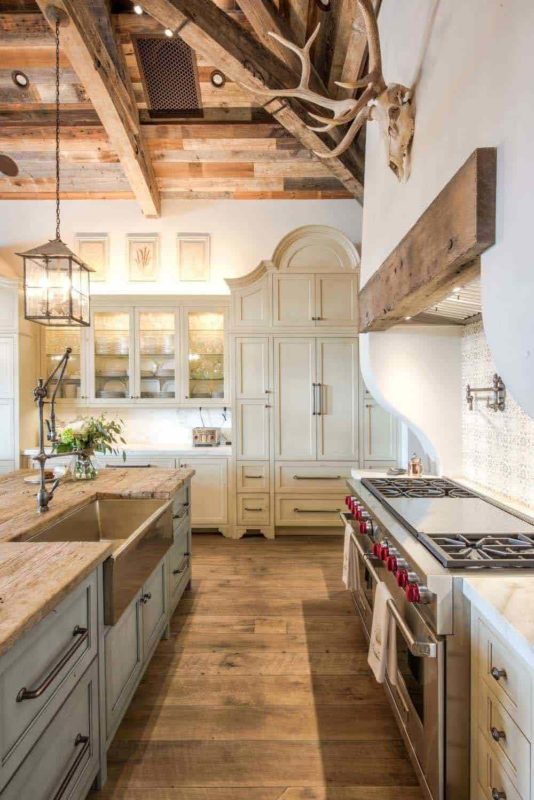 This Texas kitchen design from onekindesign, designed by AE interiors is a great example because it has so many amazing things in one space. For me this is an overall dream kitchen, and I wouldn't change a thing, everything in this kitchen speaks to me. The use of wood, especially that floor… the counters, the cabinets, lighting, and accessories. Even the red knobs and the farmhouse sink are all things I love.
But…it's up to you to figure out what YOU want in your perfect space. Remember it's your space and you get to choose! You might look at this space and see things you would keep and things you would change. Maybe you don't want a farmhouse sink, or antler décor but love everything else? Maybe you don't want a wood floor or want dark cabinets? That's what's so fun about "designing" our own space…we get to choose what goes in it!
TIP: You know it when you see it…don't follow trends, follow your gut!
Think about how lucky you are! Can you image what it would be like if we had to buy a kitchen completely decorated "as is" and there were only 5 designs in the whole world to pick from? When designing your space, and that is the keyword "your" space… take your time and make sure you love everything you choose…make it "your" perfect space!
Any questions…just email me, I love hearing from you!
Carrie
XOXO